Clackamas Connects Shuttle (ClackCo)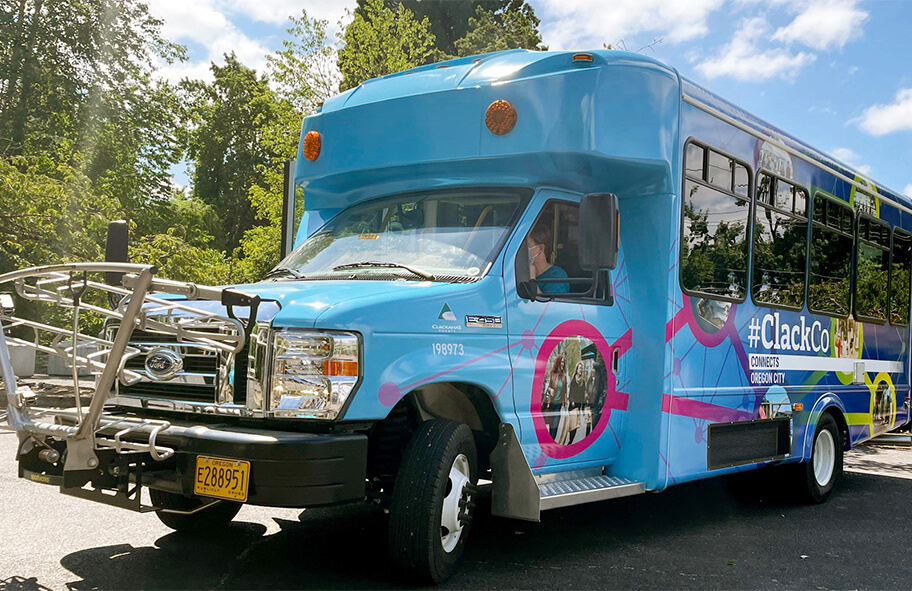 Clackamas Connects Shuttle (ClackCo)
The Clackamas County Connects shuttle service (ClackCo) provides a vital connection to our rural communities and areas that are hard to get to by public transit. These shuttles help relieve congestion on county roads and they will provide critical, last-mile connections between services provided by regional transit.
The shuttles are a free "deviated fixed-route" service. Can't make it to the main bus stop or route? Call 24 hours in advance (971) 358-0623 to make arrangements and check availability to be picked up or dropped off within ¾ mile from the route. You may also signal/flag the bus to get on or off the bus in-between stops. The two shuttle services fill gaps from TriMet stops to underserved portions of Oregon City and the Clackamas Industrial Area.
ClackCo provides the following routes and services:
ClackCo riders can make connections to:
TriMet and CAT99X (Canby) at Oregon City Transit Center
TriMet, CCC Xpress, and SCTD's Molalla to CCC at Clackamas Community College (CCC) Oregon City Campus
TriMet MAX Green line at Clackamas Town Center Transit Center
| | |
| --- | --- |
| ClackCo Oregon City | Free |
| ClackCo Clackamas Industrial | Free |
| ClackCo CCC Xpress | Free |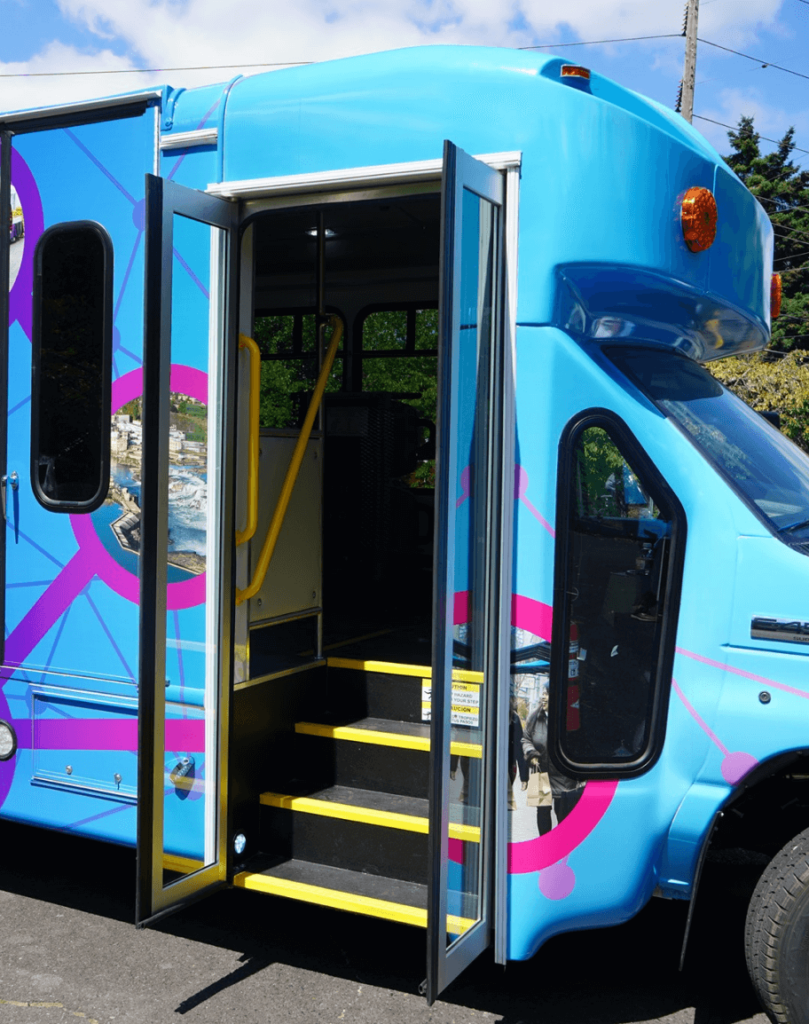 Rules
When riding the Clackamas Connects Shuttle, here are some bus rules to know and follow:
Children under 10 must have a person 16 years or older with them. Children 10–12 years may ride alone if there is a person 16 years or older at the place of departure and arrival.
No smoking, vaping or alcohol allowed.
Non-alcoholic beverages in covered containers allowed.
Shirt and shoes required.
Personal devices with headphones only.
Remain seated.
No disruptive or disturbing behaviors.
Accessibility
Clackamas Connects Shuttle is committed to providing equal opportunities for persons with disabilities.
All buses are wheelchair lift-equipped.
Drivers are trained to assist customers and to secure mobility devices to ensure a safe ride for all passengers.
Priority seating is available on all buses for senior citizens and people with disabilities.
Controlled service animals are welcome.
For ADA accommodation requests, please call Clackamas County at 503-655-8640 or TTY 503-650-5646.
Bikes
All buses are equipped with two-bike capacity front racks.
Safety
Clackamas Connects Shuttle values the safety of our passengers. Here are some safety guidelines to make your experience riding with us as smooth as possible:
Keep your personal information private, including where you are going.
Be alert at bus stops and when riding the bus.
If someone makes you feel uncomfortable, sit near the bus driver.
No unnecessary conversation with the driver while the bus is moving. Drivers must remain focused on driving.
Keep the aisle of the bus clear at all times.
Remember that fighting, boisterous, or other behavior that disturbs passengers can result in removal from the bus.
In case of an emergency, alert the bus driver and call 9-1-1.
Use designated crosswalks after the bus has pulled away. Do not cross in front of the bus.