Sandy Area Metro (SAM)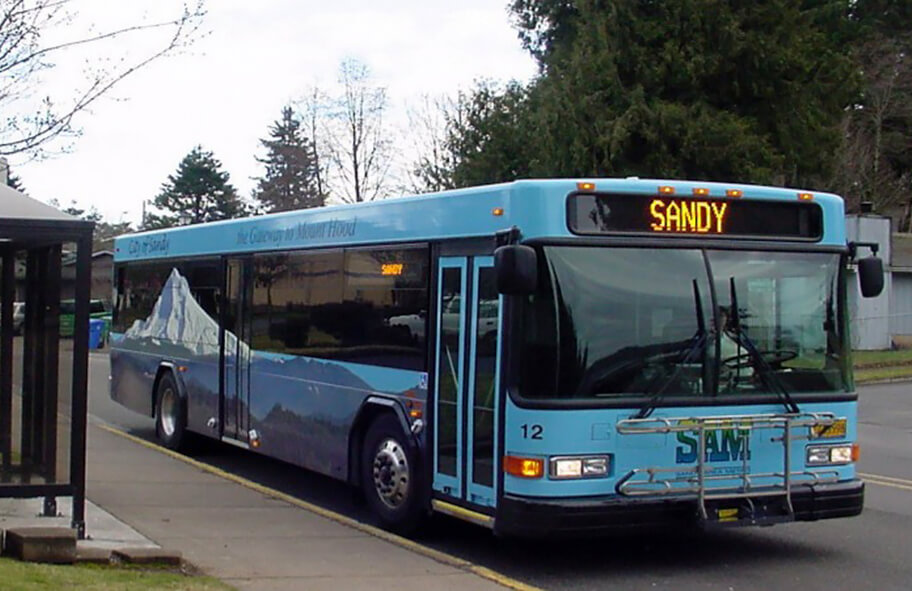 Sandy Area Metro (SAM)
SAM operates under the City of Sandy's Transit Department. MV Transportation provides Sandy Transit's operations services under contract with the City. The City is responsible for administration, program management, budgeting, fiscal control, public relations, marketing, fleet maintenance, service scheduling, monitoring, evaluation and planning.
SAM provides the following routes and services:
SAM riders can make connections to:
Single Trip Tickets
| | |
| --- | --- |
| All Routes in town | Free |
| SAM Shopper | Free |
| Leaving town at Hwy 26 and 362nd or Hwy 211/ boarding in Gresham/Estacada | $1 |
| Elderly & Disabled Out of town medical transportation (by eligibility) | $2 |
How to buy single trip tickets:
Pay drivers exact change. Drivers don't carry cash.
Passes
| | |
| --- | --- |
| Multi-Trip Pass (24 trips)* | $20 |
| Monthly Pass | $30 |
| * A "trip" is defined as a one-way origin-to-destination ride (includes immediate transfers on Sandy Transit. If transferring). Please let your driver know so you may receive a token. | |
| SAM/Mt. Hood Express Combined All Day Pass | $5 |
How to buy passes:
Passes may be purchased at the following locations:
Sandy City Hall (39250 Pioneer Boulevard)
Sandy Community Center/Senior Center (39348 Pioneer Boulevard)
Sandy Public Library (38980 Proctor Boulevard)
Sandy Transit Operations Center (16610 Champion Way – across from Sandy Cinema)
Hoodland Public Library (24525 E Welches Road)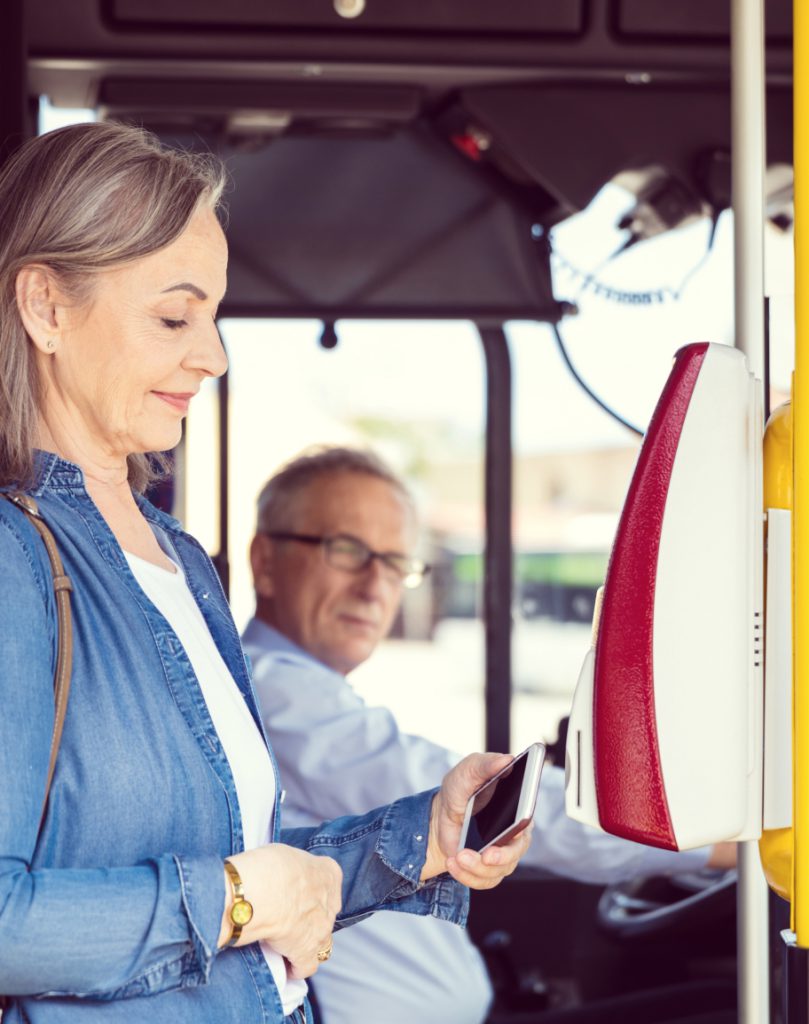 Rules
When riding with SAM by bus or shuttle, here are some rules to know and follow:
Fare must be paid upon boarding.
Shirts and shoes must be worn.
Strollers must be folded.
Remain seated while the bus is in motion, if possible.
Smoking or vaping on public transit vehicles is prohibited by law. Please extinguish cigarettes before boarding the bus.
Finish food and beverages before boarding or keep them in a closed container.
Please be mindful of our "front of the bus" courtesy seating for the elderly and people with disabilities. Bus drivers may ask you to move if necessary.
Please keep your electronic devices and conversations personal. Audio of any kind must be listened to through earbuds and kept at a volume that is not discourteous to other passengers.
Please use appropriate language — profanity is prohibited. Remember: SAM drivers have the right to remove a passenger from the bus if that person is demonstrating loud or abusive behavior.
Space can sometimes be limited, so please be mindful of your personal hygiene.
All animals (including service animals) must be under the control of their owner at all times. They must be in a carrier or remain seated on the floor in front of you.
No unnecessary conversation with the driver while the bus is moving.
Use designated crosswalks after the bus has pulled away.
Accessibility
SAM is committed to providing equal opportunities for persons with disabilities.
All SAM and SAM rides buses are wheelchair accessible.
Drivers are trained to assist customers and to secure mobility devices to ensure a safe ride for all passengers.
Bikes
All SAM and SAM rides buses are equipped with bike racks.
For transferring riders, all Mount Hood Express (MHX) buses are also bike and wheelchair accessible.
Bus drivers are knowledgeable about the use of the bike rack and are happy to instruct riders on how to properly secure their bikes.
Bikes are subject to space availability.
Safety
Sandy Area Metro values the safety of our passengers. Here are some safety guidelines to make your experience riding with us as smooth as possible:
Keep your personal information private, including where you are going.
Be alert at bus stops and when riding the bus.
If someone makes you feel uncomfortable, sit near the bus driver.
No unnecessary conversation with the driver while the bus is moving. Drivers must remain focused on driving.
Keep the aisle of the bus clear at all times.
Remember that fighting, boisterous, or other behavior that disturbs passengers can result in removal from the bus.
In case of an emergency, alert the bus driver and call 9-1-1.
Use designated crosswalks after the bus has pulled away. Do not cross in front of the bus.